Wish to insert romantic notes in your dressing without going over the top?
We've got just the answer! Florals and eyelets are the simplest way for anyone at all, to try out romantic styles.

Floral prints are a league on its own. Each print has a tale to tell. The print exudes a unique vibe from the wearer and the details of the design also speaks of the style of the individual.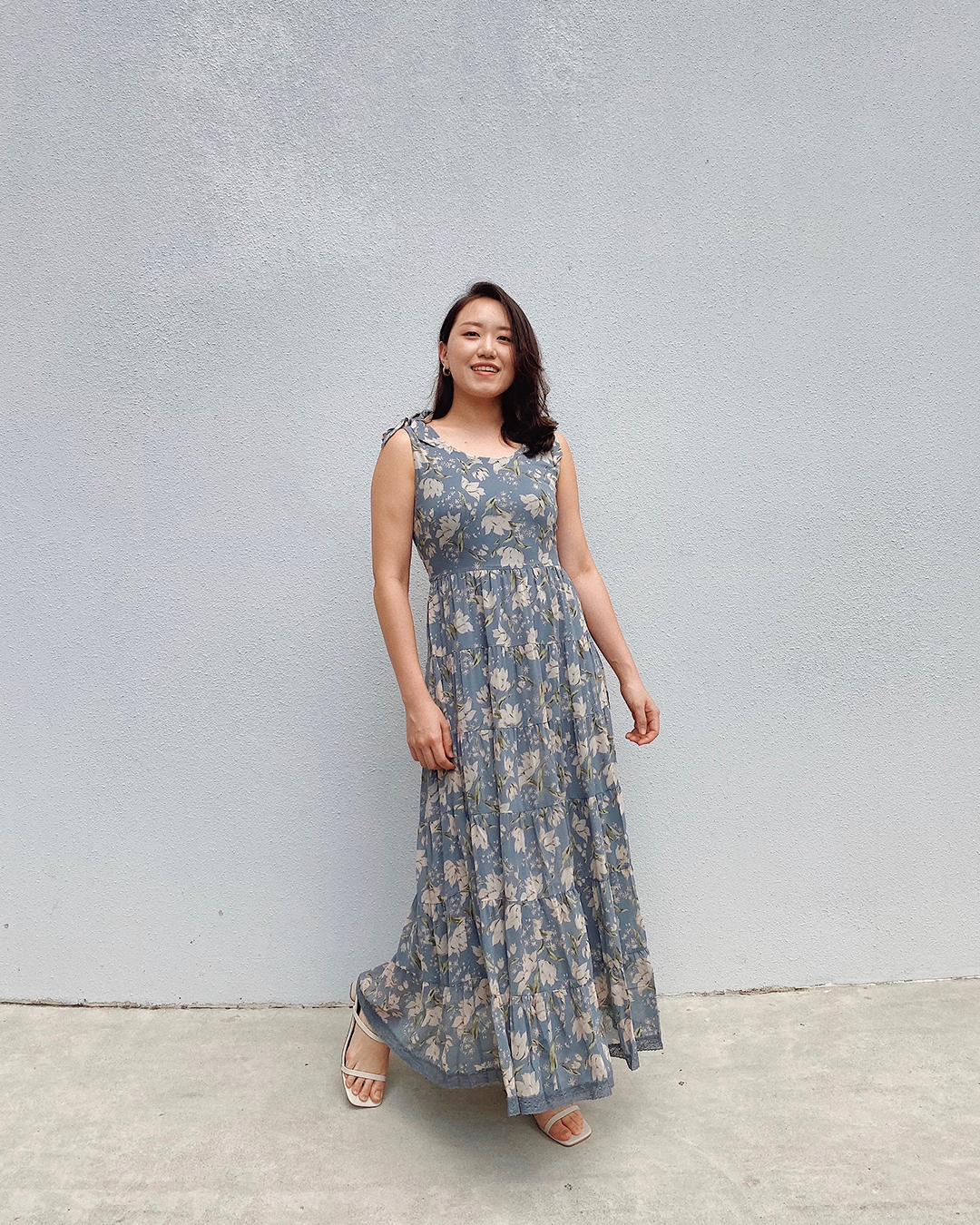 Sandy in our Ferne Maxi Dress in Blue. She is a regular UK 8 at 164cm, wearing size M.

Featuring floral prints all round with crochet trimmings at hems, there are just so many sweet details that comes with this number. This maxi dress also comes with panelled hems and attached self-tie details on shoulders. The floral prints you spot over here are soft prints that blend well with the base colour of the dress, lending a mellowed tone to the overall look.

Another great thing about donning prints is that you do not have to fuss much about accessorising. Just let the print take the spotlight while you enjoy the process of dressing up effortlessly!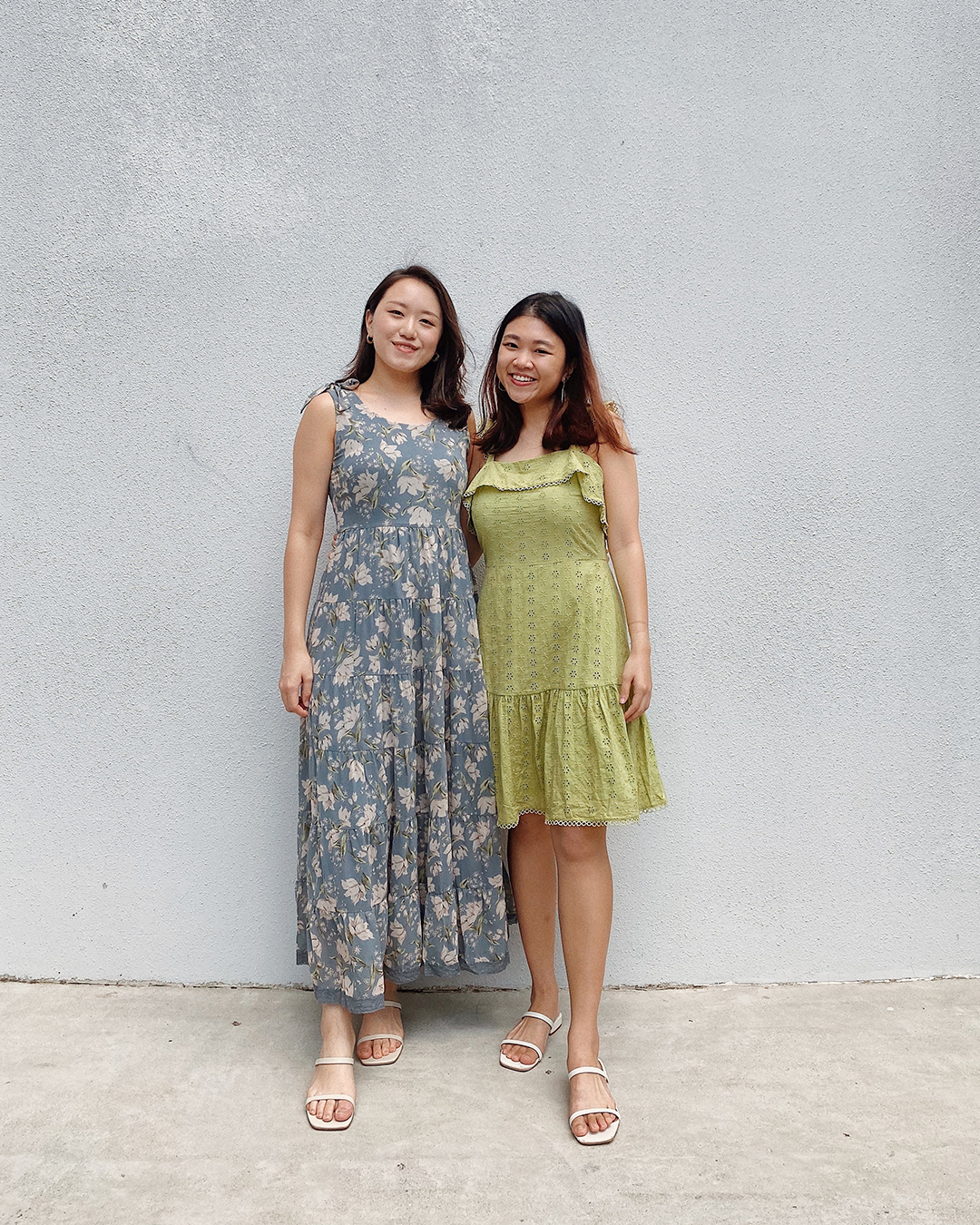 Tasmin (right) in our Merlyn Eyelet Dress in Pistachio.
She is a regular UK 10 for tops / dresses and a regular UK 8 for bottoms, at 160cm. She is wearing size L.

If prints aren't your thing, another way to go for a sweet romantic look will be eyelets!
Eyelet details are subtle but they are exquisite. Merlyn combines the sophistication of eyelets alongside feminine details like a ruffle overlap detail at the neckline and eyelet trimmings at hems and shoulder straps. The dropwaist fit of this number accentuates all the right curves for an hourglass silhouette.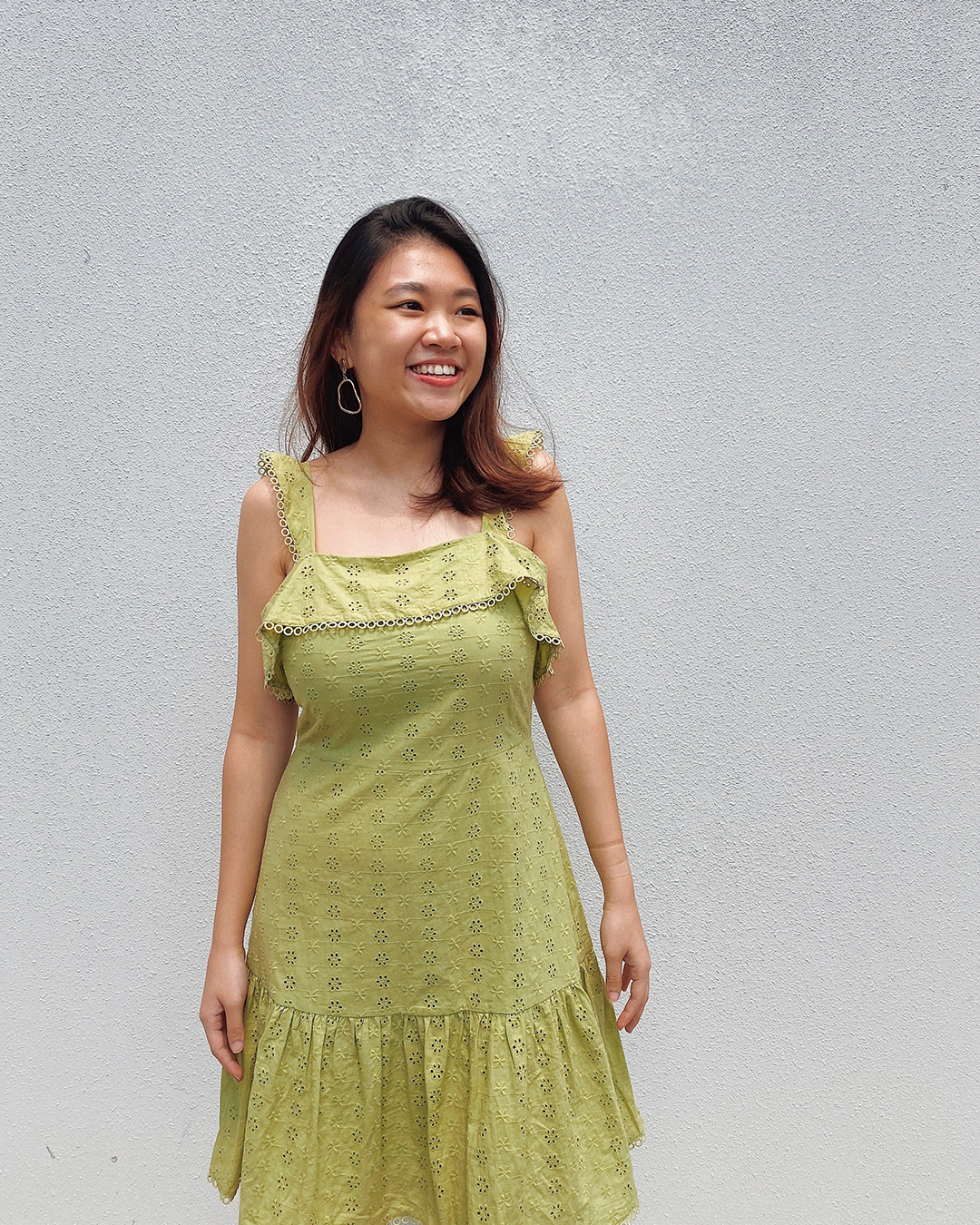 Merlyn Eyelet Dress, available in Pistachio, Ash Lilac and Daffodil.

With the amount of details that we have on this number, we retain the same advice we offer - let the piece speak for itself. Just a touch of accessorising e.g. gold accent earrings and minimalist footwear will be good to let you shine!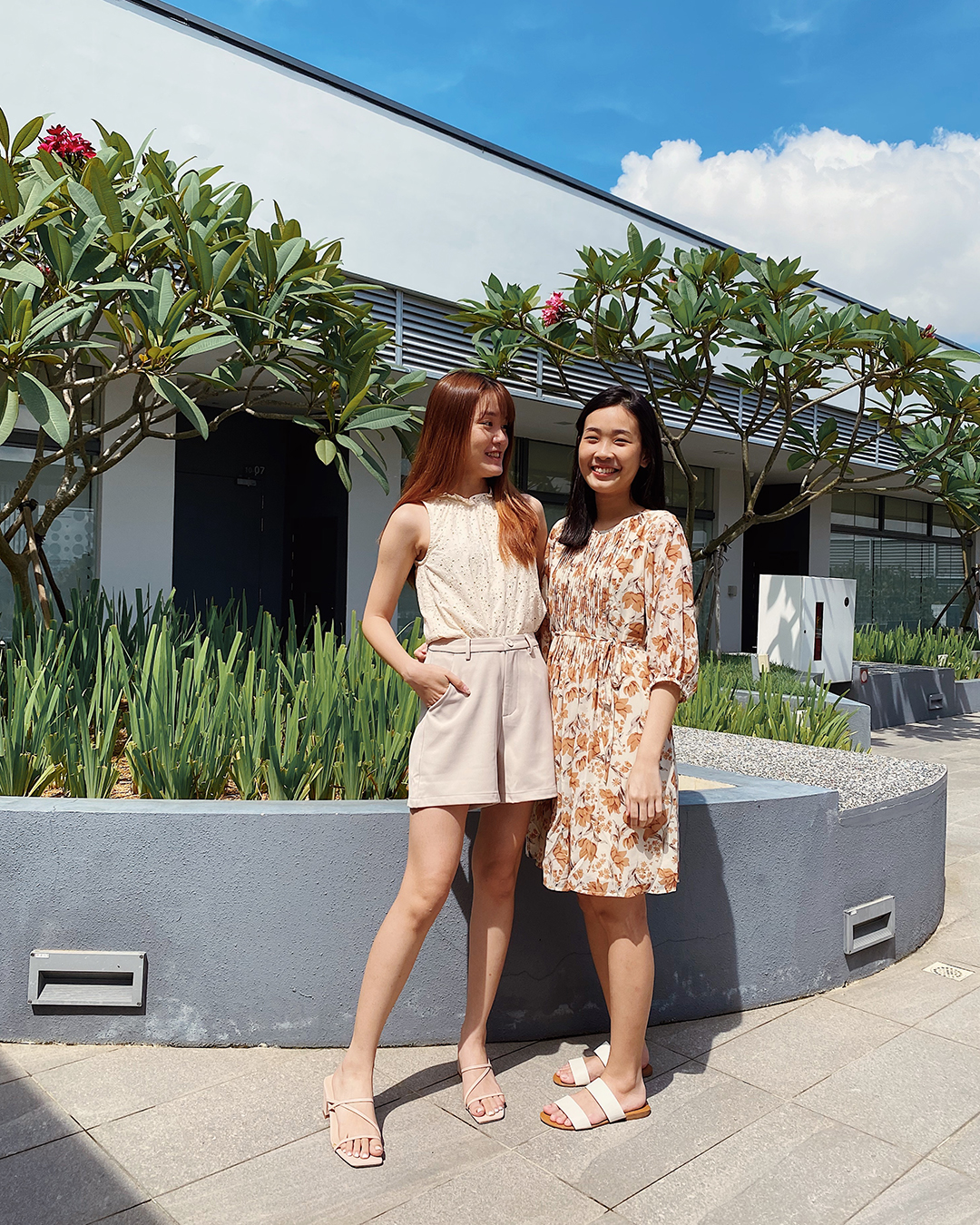 Jocelyn (left) is a regular UK 2 for tops / dresses and a regular UK 4 for bottoms, at 158cm. She is wearing size XXS for our Hanne Eyelet Top in Cream.
Crystal (right) is a regular UK 4 at 155cm. She is wearing size XS for our Ferne Sleeved Dress in Cream.


And of course, when you shop with us, we are all about having different style options!
For our Ferne print, we got ourselves a sleeved version which is a tad more casual. The cutting is also very much more forgiving as it is a loose fitting number. For those who are more conscious about their arms and / or waistline, this number is worth a consideration!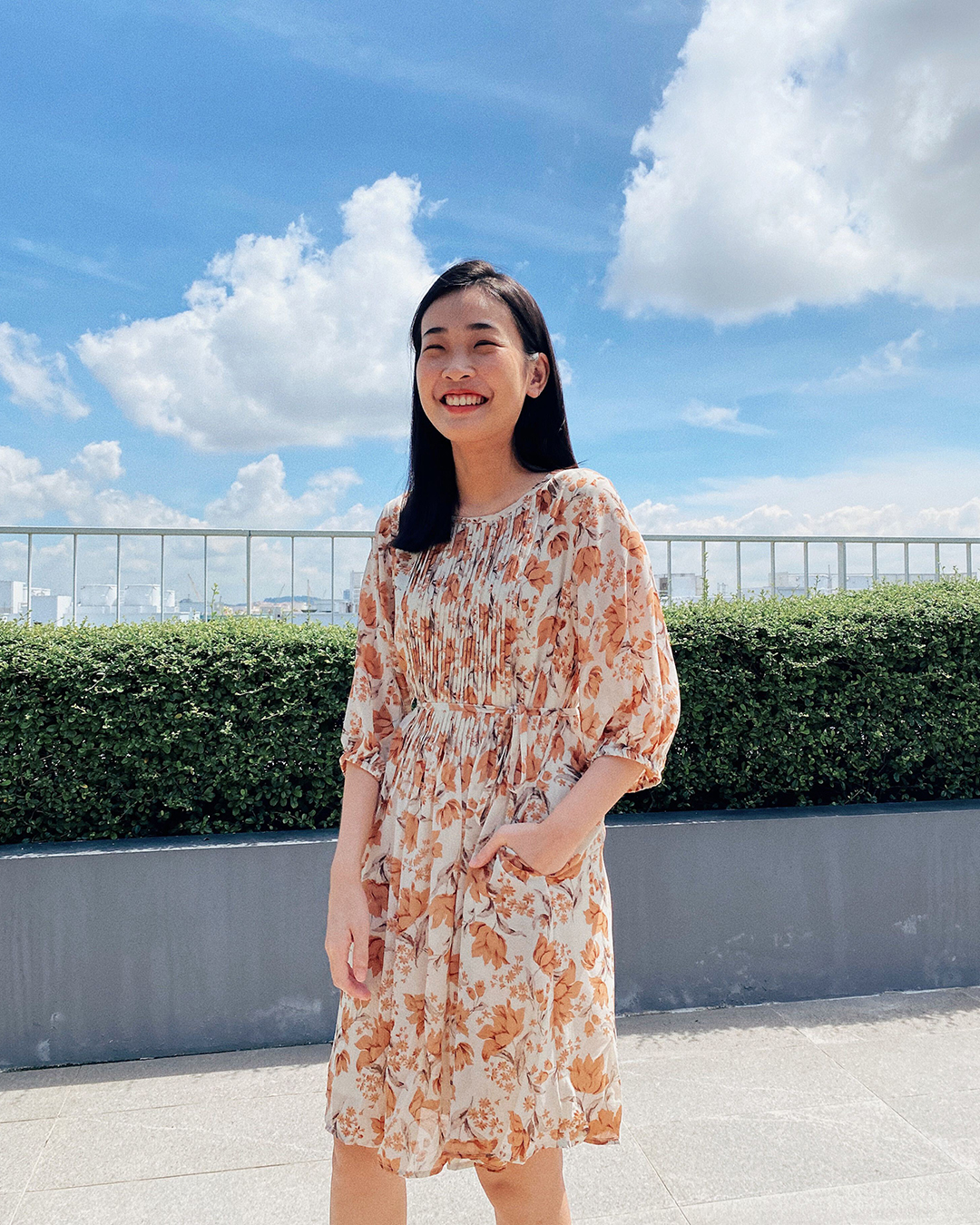 This sleeved dress version does not come short of details. The pleated details upon the bust area and optional waist sash are all fine touches that we incorporated so that you ladies will have different dimensions to your look. This fuss-free number also comes with pockets, a handy detail our team loves!

P.S. This number is also a bump-friendly piece so shoutout here to all mummies-to-be! (: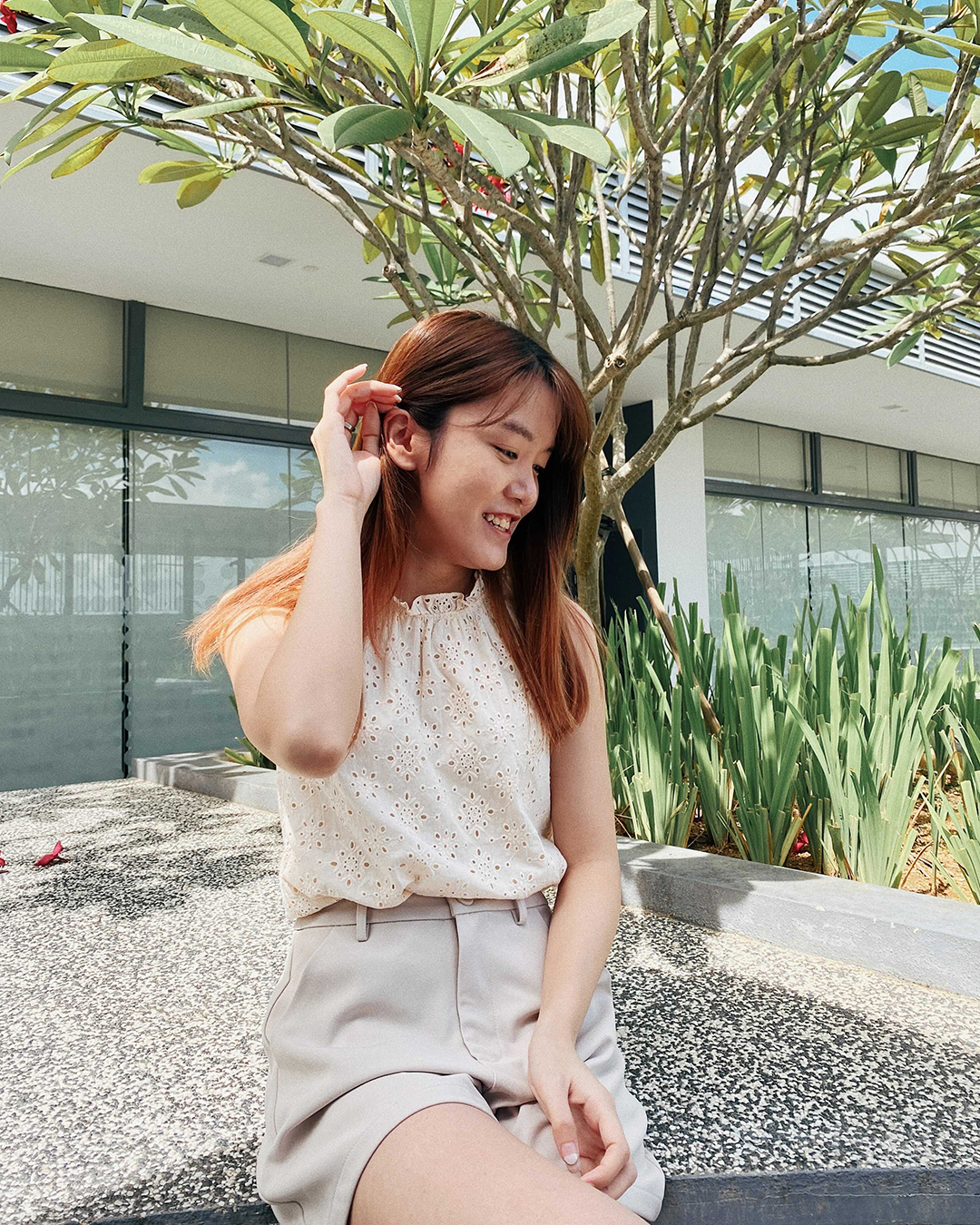 Hanne Eyelet Top is available in Cream and Pistachio. Launching online this Sunday (27/9), 8.30pm.

For extra versatility with your eyelets, your best bet has got to be with an eyelet top and here's our latest rendition! With a top, you can achieve a multitude of looks from formal to off-duty. Here, our team went for a casual weekend look.

Perfect for a weekend outing where you can look and feel good, don't you think?

For more sneaks and previews, check out our latest Garden Rhapsody lookbook!
Full collection will be launching online this Sunday (27/9) at 8.30pm.